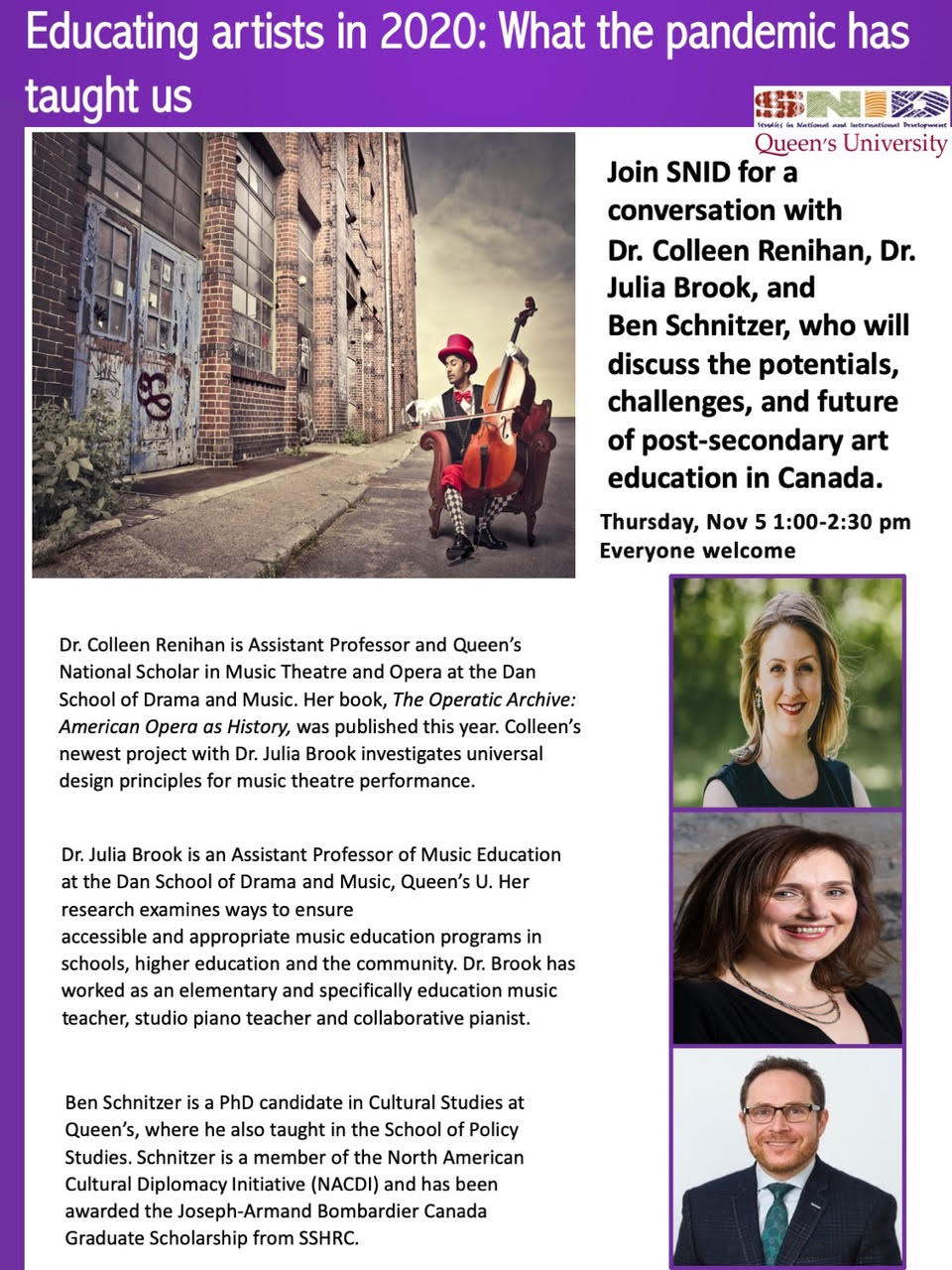 The pandemic has magnified many issues that we face as a society, including post-secondary programming in the arts, including music. Post-secondary music programs have been criticized in recent years for their lack of equity and diversity, a problem that is undeniably systemic. Changes to post-secondary curricula need to better reflect a diversity of arts-making and makers, as well as support an understanding of the nature and scope of careers within the arts. Without illuminating this pathway, and making it as direct as possible, post-secondary music programs are inevitably excluding many potential students from choosing to study music in post-secondary education. In this talk, we will describe the cultural domains in Canada and the different ways that artists can work within and/or across them. We also highlight some of the challenges faced by the industry and offer some insights about how changes in post-secondary programs could better equip musicians to diversify their craft and/or pivot across domains. We also identify some areas for policy changes that could better support the industry and the individuals that work within it.
Dr. Julia Brook is an Assistant Professor of Music Education at the Dan School of Drama and Music, Queen's University in Kingston. She holds degrees in Piano Performance and Music Education. Her SSHRC and CFI-funded research examines ways to ensure accessible and appropriate music education programs in schools, higher education and the community. Dr. Brook has worked as an elementary and specifically education music teacher, studio piano teacher and collaborative pianist.
Dr. Colleen Renihan is Assistant Professor and Queen's National Scholar in Music Theatre and Opera at the Dan School of Drama and Music. She holds degrees in Voice Performance and Musicology. Her book, The Operatic Archive: American Opera as History, was published this year. Colleen is embarking on a SSHRC and CFI-funded project with Dr. Julia Brook that investigates universal design principles for music theatre performance, and they have just completed a SSHRC funded project examining the scope and nature of work for musicians across Canada's cultural domains.
Ben Schnitzer a PhD candidate in Cultural Studies at Queen's, where he also taught in the School of Policy Studies. After studying voice and performing in Canada and in Europe, Ben completed a Master of Public Service (Waterloo) and worked in cultural policy for the Canadian government. A member of the North American Cultural Diplomacy Initiative (NACDI) and was awarded a Joseph-Armand Bombardier Canada Graduate Scholarship from SSHRC to support his research on Canadian cultural diplomacy in the contemporary period.
Recorded via Zoom, November 5th 2020
Podcast: Play in new window | Download
Subscribe: Apple Podcasts | Spotify | Stitcher | RSS | More