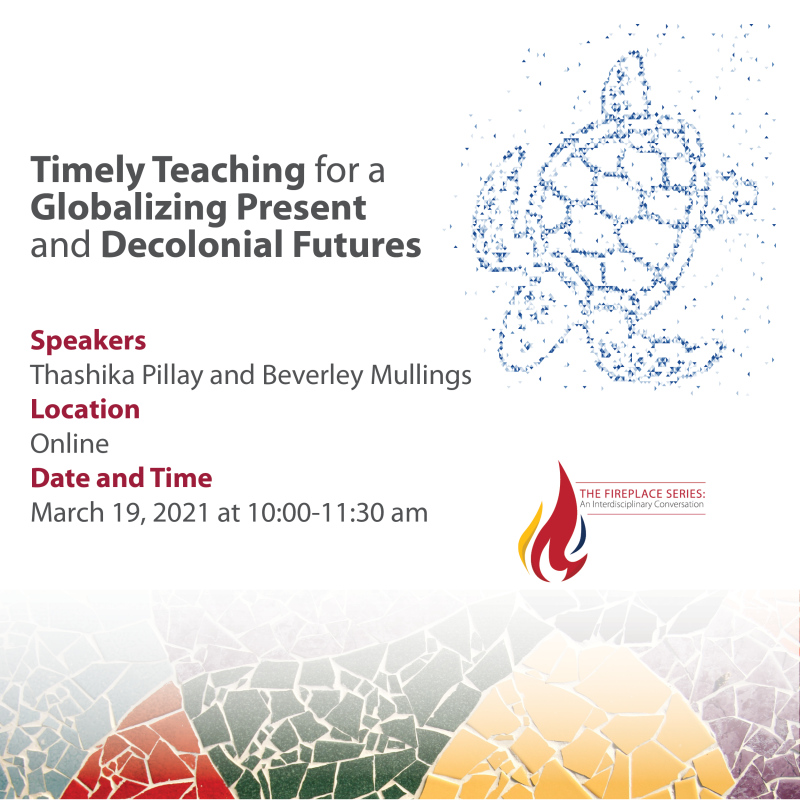 Recorded: 19 March 2021
 How do we teach now for a globalizing present and towards decolonial futures? Join Dr. Thashika Pillay (Faculty of Education, Queen's University) and Dr. Beverley Mullings (Geography and Planning, Queen's University), scholars concerned with diasporic and global identities, as they seek common and uncommon ground, in a Fireside Series chat about teaching in, from, and to the current moment. 
Speaker Details:
Beverley Mullings – Professor, Department of Geography and Planning, Queen's University 
Beverley Mullings is a Professor of Geography whose work is located within the field of feminist political economy and engages questions of labour, social transformation, neoliberalism, and the politics of gender, race and class in the Caribbean and its diaspora. She is interested in the ways that evolving racial capitalist regimes are recasting and transforming work, divisions of labour, patterns of urban governance and ultimately, responses to social and economic injustice. Beverley is currently engaged in three major research projects: one examines the financialization of Caribbean remittance economies; the second explores the possibilities that diasporic dialogue holds for reviving Caribbean Radical Traditions; the third project traces the impact of the Black  middle-class on social transformation in post-Plantation Economies.  Find out more about Beverley Mullings here. 
Thashika Pillay – Assistant Professor, Faculty of Education, Queen's University 
Dr. Thashika Pillay is Assistant Professor in Educational Policy in the Faculty of Education, Queen's University. Thashika has extensive research and teaching experience in K-12 and higher education in Canada, Australia, and Ethiopia. Her research program explores questions of social, cultural, economic, political, and epistemic justice and the possibilities for anticolonial educational policy in formal and informal contexts. Her current research explores the gaps exposed by the COVID-19 pandemic as related to racialized students' educational experiences and the role of social media in educating youth around issues of justice and equity. In addition, Thashika is co-editor of Decolonizing Global Citizenship Education (2015) and Global Citizenship, Common Wealth and Uncommon Citizenships (2018). Find out more about Thashika Pillay here. 
Tags: 
Fireplace Series, Queen's University, Faculty of Arts and Sciences, Stauffer Library, Beverley Mullings, Thashika Pillay 

Credits: 
Series Directors:

 Dr Laura Jean Cameron (Department of Geography and Planning) and Dr Allison Morehead (Art History and Art Conservation)

Assistant Coordinator:  

Claudia Hirtenfelder (PhD candidate, Department of Geography and Planning)

Podcast recording and editing:

 Dr Matt Rogalsky (DAN School of Drama and Music)

Event Assistance:

 Thank you to the FAS and Queen's Library for supporting the podcast series with special thanks to Barbara Crow, Sandra Morden, Michael Vandenburg, Jacquie Jameson, Nancy Petri, Jill Phillips, Jennifer Amos and Vicky Arnold. Thank you also to Brenda Reed and Francine Berish for compiling the reading lists. 

Music:

 Marjan Mozetich
Reading List: 
Pillay, T., & Asadi, N. (2018). Creating educative spaces for Somali-Canadian youth through informal education. Diaspora, Indigenous, and Minority Education, 12(4), 201-213. https://doi.org/10.1080/15595692.2018.1506437 [Queen's University Library access here.] 
Pillay, T., & Asadi, N. (2020). "Disrupting the Capitalist Narrative of De/Credentialization". In A. A. Abdi (Ed.). Critical theorizations of education. Brill | Sense. https://doi.org/10.1163/9789004447820_012 [Queen's University Library access here.]
Shultz, L., Pillay, T., & Karsgaard, C. (2020). A global youth deliberation and their international youth position paper on global citizenship. In J. P. Myers  (Ed.),  Research on teaching global issues : Pedagogy for global citizenship education. Information Age Publishing, 2020.  [Queen's University Library access here.]
Teasley, C., & Butler, A. (2020). Intersecting critical pedagogies to counter coloniality. In S. R. Steinberg, & B. Down The SAGE handbook of critical pedagogies (Vol. 3, pp. 186-204). SAGE. [Queen's University Library access here.]
Mullings, B. (2021). Caliban, social reproduction and our future yet to come. Geoforum, 118, 150–158. https://doi.org/10.1016/j.geoforum.2020.11.007 [Queen's University Library access here.]
Mullings, B., & Mukherjee, S. (2018). "Reflections on mentoring as decolonial, transnational, feminist praxis." Gender, Place & Culture 25(10): 1405-1422. https://doi.org/10.1080/0966369X.2018.1556614 [Queen's University Library access here.] 
Peake, L. & Mullings, B. (2016). "Critical Reflections on Mental and Emotional Distress in the Academy." ACME: An International Journal for Critical Geographies, 15(2), 253-284. [Access here.] 
Pellerin, H., & Mullings, B. (2013). The "Diaspora option", migration and the changing political economy of development. Review of International Political Economy : RIPE, 20(1), 89–120. https://doi.org/10.1080/09692290.2011.649294 [Queen's University Library access here.] 
Trotz, D., & Mullings, B. (2013). "Transnational Migration, the State, and Development: Reflecting on the "Diaspora" Option." Small Axe 17(2): 154-171. https://doi.org/10.1215/07990537-2323373 [Queen's University Library access here.] 
Background reading: Entries on "Neoliberalism", "Remittances" and "Colonialism" in Kobayashi, A. (2020). International encyclopedia of human geography. Volume 1  (Second edition.). Elsevier. [Queen's University Library access here.]   
Podcast: Play in new window | Download
Subscribe: Apple Podcasts | Spotify | Stitcher | RSS