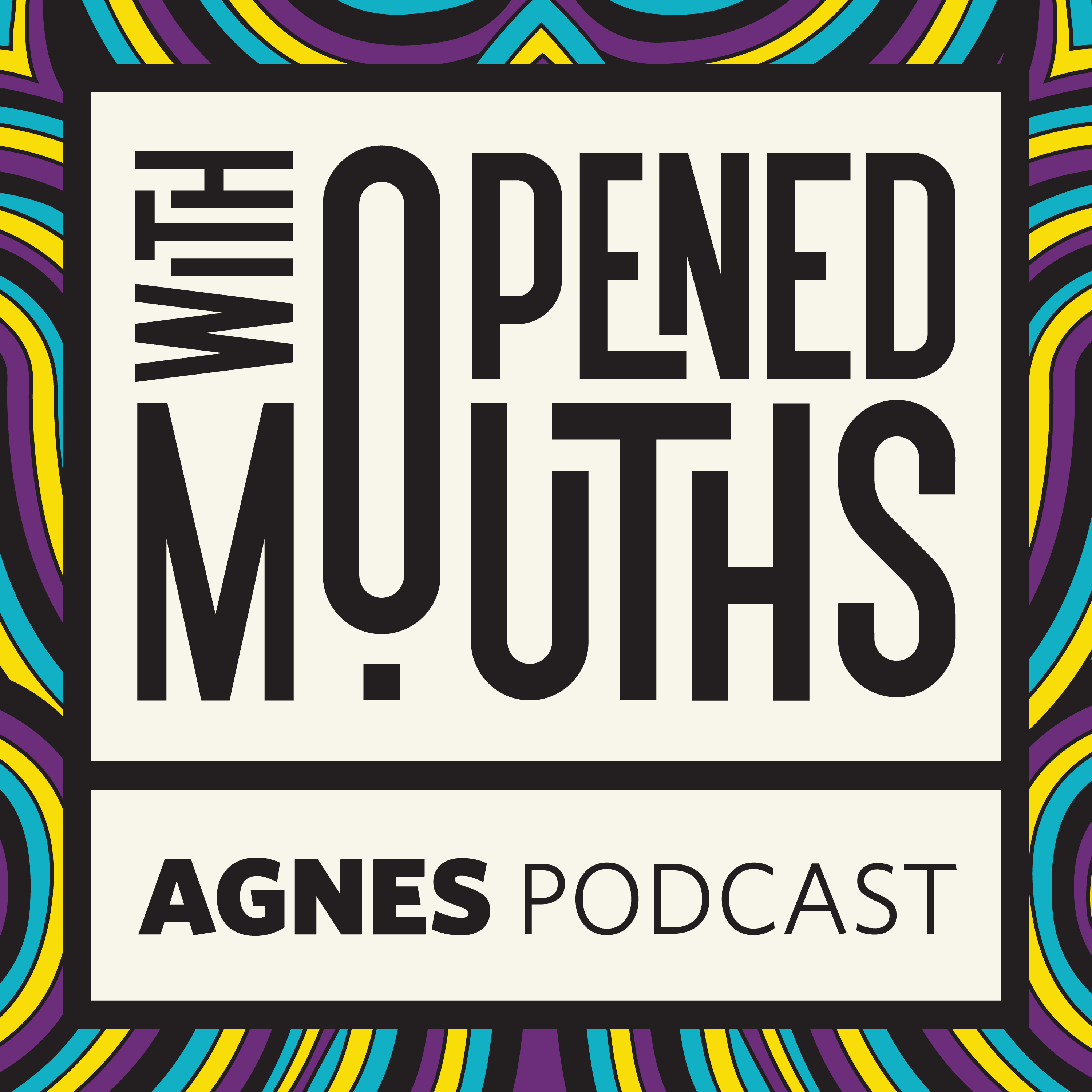 Jason Cyrus, Ezi Odozor and Qanita Lilla talk together about the creative processes of curating, researching and writing in the Canadian arts sphere. Sharing the enriching journeys around Agnes's exhibitions Spirit Banter, History Is Rarely Black or White and With Opened Mouths, this episode is about the urgency to have our voices heard, the joy of community and the pain of blood memory. If you've ever been confronted with White institutional 'quick-sand', struggled with intergenerational trauma, and wondered how to work joyfully in a hostile creative field this one is for you!
Meet our guests:
Jason Cyrus analyzes fashion and textile history to explore questions of identity, cultural exchange and agency. He is the 2021 Isabel Bader Fellow in Textile Conservation and Research at the Agnes Etherington Centre, Queen's University. This October he will present his research in History Is Rarely Black or White, an exhibition exploring Victorian cotton, slavery, and its ongoing legacies. 
Cyrus has a Master's Degree in Art History and Curatorial Studies from York University and starts his PhD in the History of Art at Warwick University in October 2021. He has held research posts at the Art Gallery of Ontario and the Royal Ontario Museum. In January 2020, he curated York University's first fashion exhibition, ReFraming Gender.
Cyrus currently lives on land that has been the home of numerous Indigenous Nations, including the Wendat, Haudenosaunee, the Anishinaabek, and most recently the Mississaugas of the Credit First Nation.
Ezi (Ezinwanne) Odozor is a Nigerian-born writer, student support specialist, and anti-racist practitioner based in Toronto. Her work, both fiction and non-fiction, focuses on themes of identity, culture, gender, race, health and intimacy. Her writing has also been showcased in multiple exhibits, most notably in Oluseye's "A Room Full of Black Boys," which was featured on CBC.
Find more details on their exhibitions at Agnes: 
Spirit Banter: Ezi Odozor (on view 27 November 2021–30 January 2022): https://agnes.queensu.ca/exhibition/spirit-banter-ezi-odozor/ 
History Is Rarely Black or White (on view 27 November 2021–20 March 2022): https://agnes.queensu.ca/exhibition/history-is-rarely-black-or-white/
With Opened Mouths (on view 7 August 2021 to 30 January 2022): https://agnes.queensu.ca/exhibition/with-opened-mouths/   
Episode Transcript: https://bit.ly/3r3nh87 
The podcast is hosted by Qanita Lilla and produced by Agnes Etherington Art Centre in partnership with Queen's University's campus radio station, CFRC 101.9 FM. 
Original music by Jameel3DN, produced by Elroy "EC3" Cox III and commissioned by Agnes Etherington Art Centre, 2021.  
The graphic for the podcast is created by Vincent Perez. 
The podcast is supported by the Justin and Elisabeth Lang Fund and the Ontario Arts Council, an agency of the Government of Ontario.
Podcast: Play in new window | Download
Subscribe: Apple Podcasts | Spotify | Amazon Music | iHeartRadio | Stitcher | Podchaser | TuneIn | Deezer | RSS | More