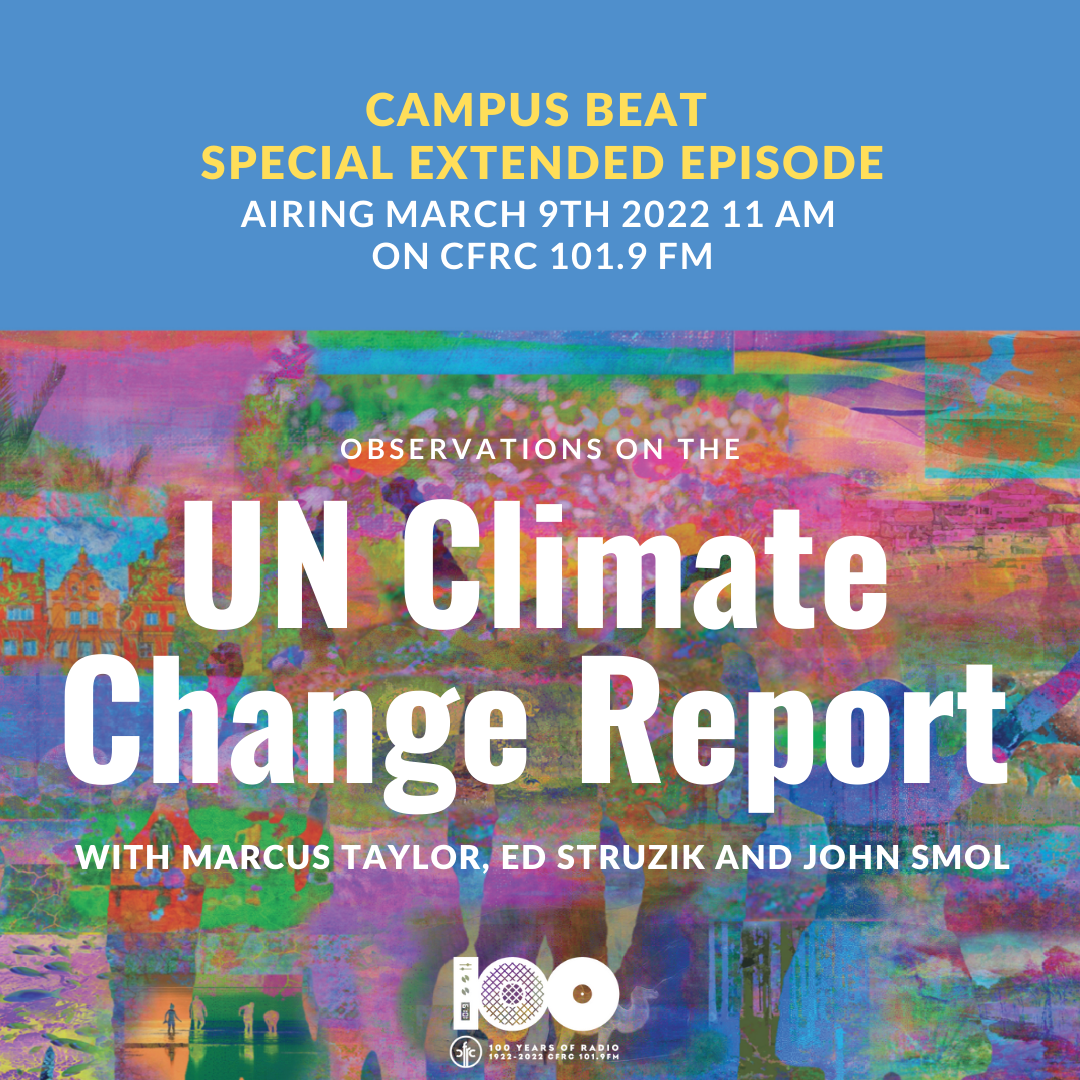 On February 28th, the UN Intergovermental Panel on Climate Change, the IPCC – a United Nations body tasked with educating global policy-makers through regular assessments of the climate situation worldwide – released its most recent report on climate change.  And the results appear grim as the report projects rising sea levels in addition to drought, heat, hunger and higher intensity disasters causing dangerous and widespread disruption for the natural world as well as the billions of people inhabiting the planet.  With its focus on how climate change is impacting humans and the natural world, the IPCC report calls for immediate, drastic action—including the need to protect over a third of the planet to ensure food and fresh water for future generations and to ultimately prevent the worst-case scenarios through nothing less than transformational change on a global scale.
In this special extended Campus Beat episode, we're chatting with several Queen' University scholars about the latest UN climate change report.
In our first segment, we sit down with with Prof. Marcus Taylor – Head of the Department of Global Development Studies and also a contributing author to the IPCC's Sixth Assessment Report – about the report and his work wihin related to the issue of climate change maladaptation.
Our second segment begins around the 29 minute mark.  There, we are joined by Ed Struzik, Fellow at the Queen's Institute for Energy and Environmental Policy in the School of Policy Studies and also the 2022 Jarislowsky Fellow at the University of Waterloo.  He chats with us about the UN's IPCC climate change report findings related to wildfires, a phenomenon identified as a top threat to Canada.
Distinguished University Professor, Dr. John Smol from the Department of Biology joins us in our third segment around the 36 minute mark.   He chats with us about ecological and environmental issues covered in the report related to flooding and water quality in addition to broader thoughts on the historical 'snooze button' set by policy-makers on the climate action clock.
Podcast: Play in new window | Download
Subscribe: Apple Podcasts | Spotify | Amazon Music | iHeartRadio | Podchaser | RSS | More