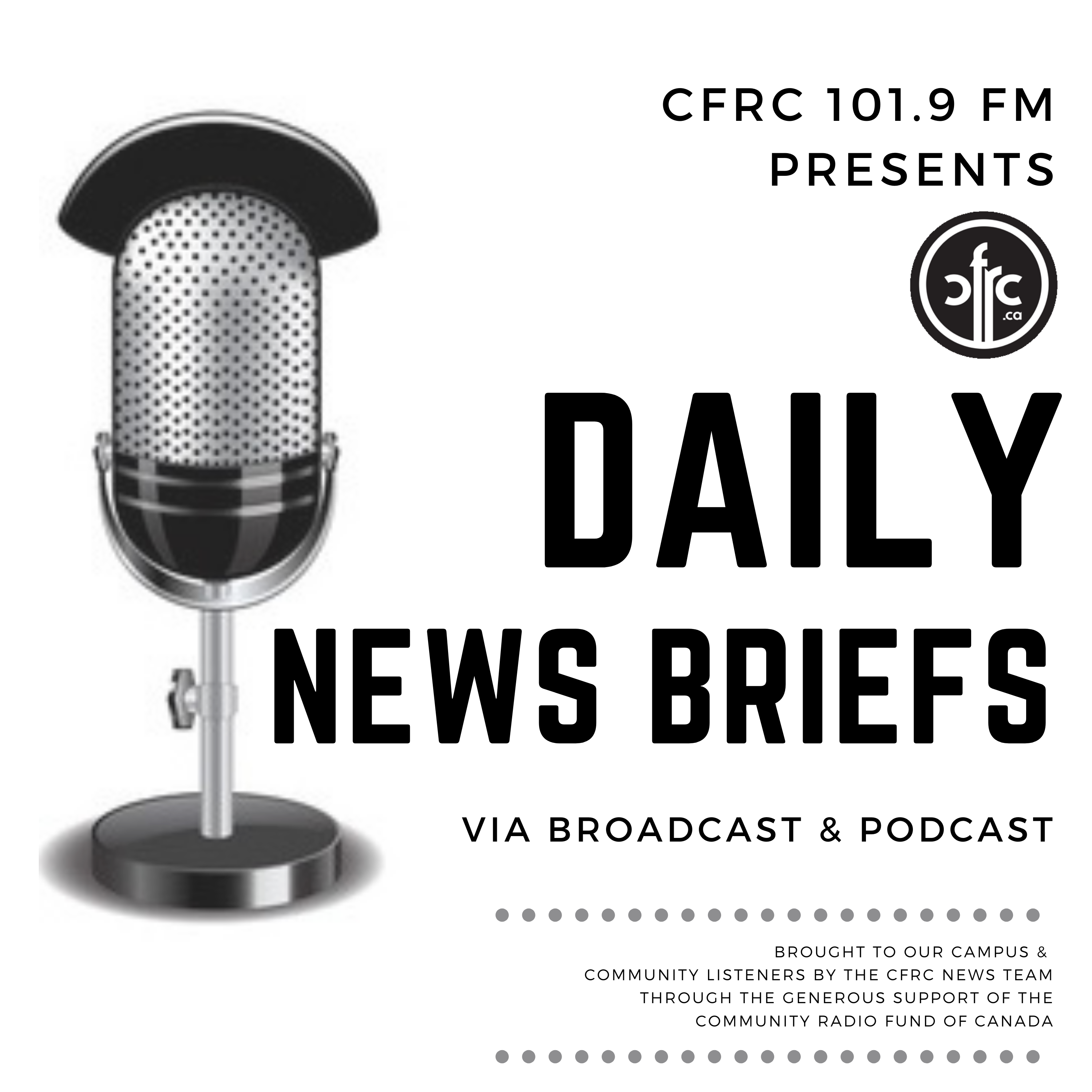 It's Tuesday October 11th. Good Morning I'm Karim Mosna with your daily news brief. In the news…
CFRC 101.9 FM celebrated a century of broadcasting on Friday, as a plaque was unveiled marking 100 years to the day that CFRC took to the airwaves. Former station manager Steve Cutway presented two achievement awards to long-standing volunteers Wayne Vermette and Jim Birch who have broadcasted for over 40 consecutive years on the station. Alex Freedman Executive Director at the Community Radio Fund Canada was at the plaque unveiling ceremony. The Community Radio Fund of Canada funds projects at campus and community radio stations says it's a very unique place this station plays in the community.
"It is a part of the community, it is run by people from the community…These are the voices from the community… Campus radio is the first place that you hear those early Canadian artists…Shelagh Rodgers started on this radio station.This is the place where those original voices get a microphone in front of them."
My full conversations with Alex Freedman, along with both Jim Birch and Wayne Vermette coming up this afternoon at 5 on Citizen K. 
The biggest fundraising event of the year is on the horizon for local food charity Martha's Table. The Empty Bowls fundraiser is a ticketed event where attendees receive a handcrafted bowl made by the Kingston Potters' Guild and it's a chance to gather for a soup lunch, with all proceeds going to Martha's Table.
Executive Director Ronda Candy says donations in general are lower than typical years, as it's no secret people all throughout Kingston and the entire country are feeling the pinch from inflation.
She says Martha's Table has certainly not been free from feeling that impact and needs the support with a constant, seemingly ever-growing list of people in need.
She adds "We're cooking for more than 450 people seven days a week."
Candy says they're prepared to help the city's unhoused and most vulnerable people, but it's frustrating for the city as a whole to be continually unprepared for a recurring issue. 
She says,"We need to be more proactive… we know it's coming, it's year after year and people need a place to go so it's no surprise when we get there and people are cold. It's very frustrating."
This year the event will return in-person on November 6, being hosted for the first time at Quality Inn and Conference Centre by Division and the 401 Tickets are $65, for lunch and a handcrafted bowl are included at the event which will also have a silent auction and local live music.
This story courtesy of Owen Fullerton, Local Journalism Initiative Reporter with YGK News.
That's all for your daily news brief. If you have any news tips email: news@cfrc.ca
Podcast: Play in new window | Download