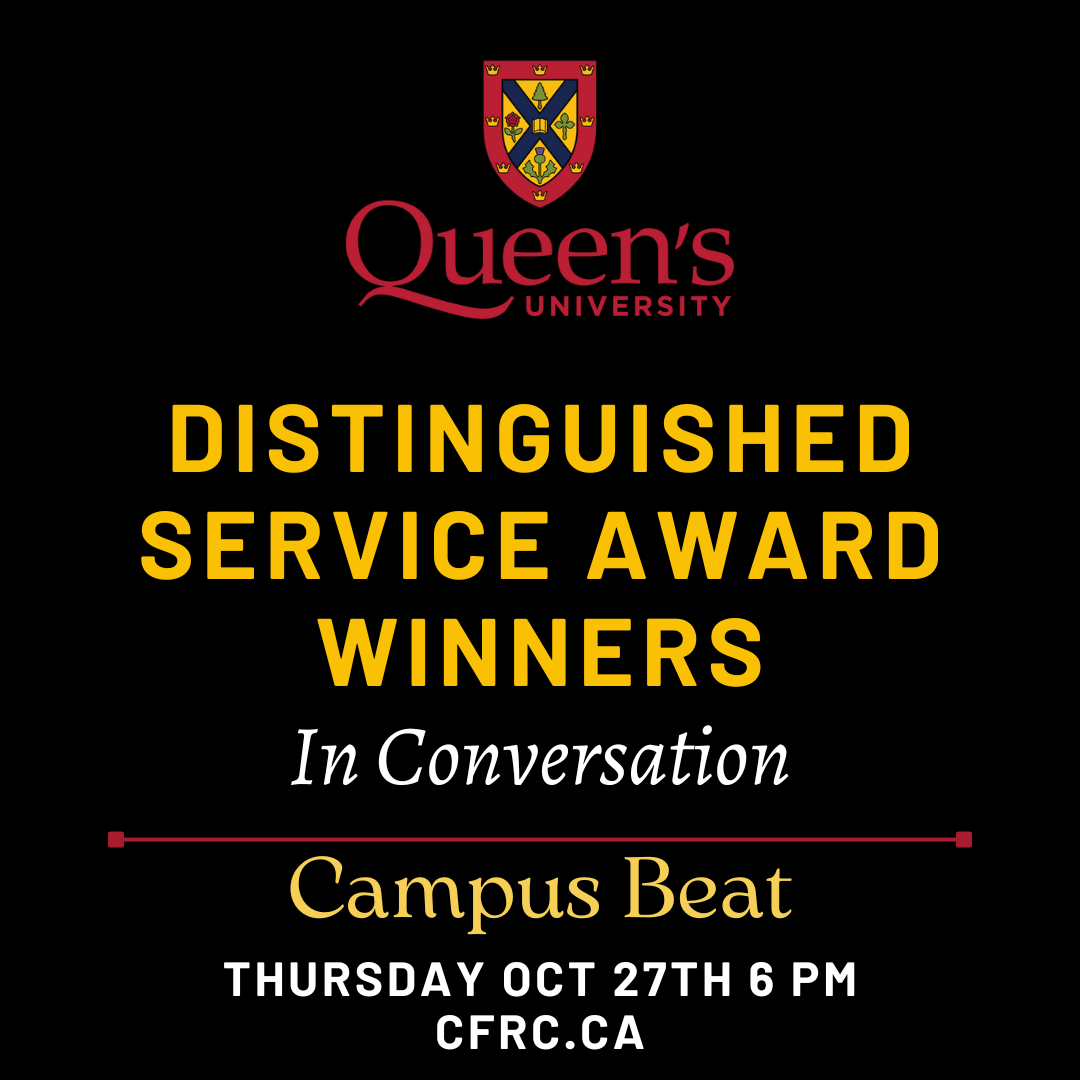 In this special edition of CFRC's Campus Beat, host Dinah Jansen brings you cheerful conversations with this year's Queen's University Distinguished Service Award winners.
Queen's faculty, staff, students, retirees, elected, appointed, ex officio or honorary members of of University Council, the Queen's Alumni Association, and the Board of Trustees are invited each year to nominate candidates for a Queen's Distinguished Service Award. Inaugurated by the University Council in 1974, this award recognizes individuals who have made the University a better place through their extraordinary contributions.
This year's Distinguished Service Award Winners are Leslie Dal Cin, Leslie Flynn, Dan Langham, Jim Leech, Donald Raymond and Kimberly Woodhouse.  We had the opportunity to catch up with five of six of the winners and learn more about their service contributions and what motivates them to make Queen's a better place.
Our first conversation is with Chancellor Emeritus Jim Leech, former Trustee and Chair of University Council, enthusiastic presider over convocation ceremonies, and a generous philanthropist, who has profoundly impacted the lives of countless students and enriched the university community with his dedicated and tireless service.
Following our chat with Jim, we sit down with Dr. Kimberly Woodhouse, Former, and first female, Dean of the Faculty of Engineering and Interim Vice-Principal (Research).  Leading the way as well as a professor, innovator, leader of transformational change in engineering education, advocate for cultivating the link between teaching, research, and industry, Dr. Woodhouse has also earned a Distinguished Service award for the instrumental role she has played in the vision and realization of world-class research facilities at Queen's.
We also welcomed Emeritus Chair Donald Raymond of the Queen's University Board of Trustees, Queen's alumnus, and volunteer extraordinaire, who remains committed to principles of collegial governance and who fostered strong relationships with student leaders, resulting in fundamental changes to responsible investment strategies, decarbonization, and climate action at the university.
After our time with Don, we sat down  with Dr. Leslie Flynn, Vice Dean (Education, Faculty of Health Sciences), Queen's alumna, professor, exceptional educator, researcher, mentor, and leader of the pursuit, improvement, and championing of education at all levels, and who is dedicated to the fundamental transformation of medical education, and whose accomplishments and legacy will impact students, faculty, and staff for years to come.
And finally, we were also joined by Dan Langham, Director of Environmental Health and Safety at Queen's University since 1999, a trusted advisor, developer of policies, programs, and services to promote a healthy workplace, a champion of health and safety on campus, and who was instrumental in the University's response to the global pandemic while providing steadfast guidance and leadership in navigating the complexities of safety during an unprecedented time.
Thank you for tuning into our  Campus Beat Podcast Special featuring conversations with Queen's University Distinguished Service Award Winners.  The episode also airs at 6 PM on October 27th on CFRC 101.9 FM/cfrc.ca. Learn more about these awards on the Queen's university Secretariat website via queensu.ca.
Podcast: Play in new window | Download
Subscribe: Apple Podcasts | Spotify | Amazon Music | iHeartRadio | Stitcher | Podchaser | RSS | More