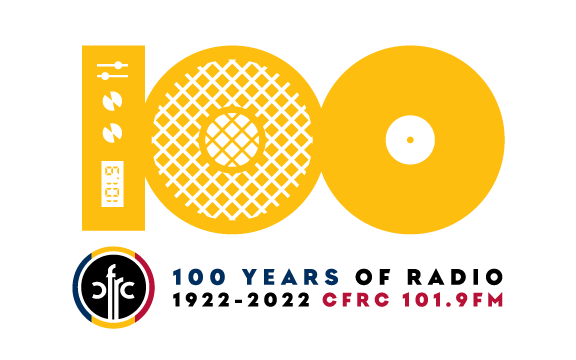 Kingston, ON Oct 3, 2022- CFRC 101.9 FM Radio Queen's University will host a Plaque Unveiling Ceremony of the station's official Centennial Plaque on October 7th 2022 at 1 pm outside of Carruthers Hall on Queen's University Campus (62 Fifth Field Company Lane).  All members of the Queen's and Kingston communities are welcome to attend.
Established October 7th 1922, CFRC started as an experimental station 9BT broadcasting a post-game summary of a Queen's Tricolor-Hamilton Rowing Club exhibition football game.  From its original home in Fleming Hall at Queen's University to Carruthers Hall, its current home, several thousand student and community volunteers have continued to produce the most diverse mix of music and spoken word programming in the region.
Featuring indie, jazz, pop, blues, folk, punk, metal, experimental and more, CFRC's volunteers bring their curatorial skills to the airwaves daily, exposing listeners to music they cannot access on Top 40 stations.  Volunteers also produce innovative spoken word programming including shows like Aboriginal Voices, Gender Talk, CFRC Prison Radio and live Gaels Football coverage while the station also supports numerous projects for campus and community partners, broadcasting and podcasting their content and helping them reach new audiences.
CFRC counts CBC's Shelagh Rogers and Stu Mills, Hockey Night in Canada's Chris Cuthbert, Lorne Greene (Bonanza, Battlestar Galactica) among its most notable alumni.  Rogers returned to Kingston in June 2022 to give a keynote address at the National Campus/Community Radio Association Conference CFRC hosted this year.
Former CFRC Station Manager Steve Cutway will join Kingston and the Islands MP Mark Gerretsen and MPP Ted Hsu, City of Kingston Mayor Bryan Paterson, Queen's University Principal and Vice Chancellor Patrick Deane and Alex Freedman, Executive Director of the Community Radio Fund of Canada for the unveiling.  CFRC Executive Director Dinah Jansen and CFRC's Board President Daniel Beals will host the event.
Cutway will unveil the plaque and also present two achievement awards to Jim Birch and Wayne Vermette, two longstanding station volunteers who are each celebrating over 40 years of consecutive broadcasting at CFRC's airwaves.
"It's both a pleasure and a privilege to welcome Mr. Cutway back to CFRC alongside our other distinguished guests at this historic event," says Jansen.
"Their participation underscores the deep roots CFRC has long nurtured on campus and in the Kingston community and also the enduring connections our station maintains with our alumni near and far."
Student representatives and volunteers, community volunteers and visiting CFRC alumni are expected to join in the festivities.  Following the 1 PM ceremony, the station will be open for a small reception and station tours, and a Meet and Greet event will take place at the Grad Club (162 Barrie Street) where ceremony attendees can mingle.  The Grad Club will also host the unveiling ceremony on its second floor in case of bad weather starting at 1 PM.
"CFRC staff and volunteers are so excited to welcome our alumni back to their old stomping grounds," says Jansen.  "What an extraordinary opportunity to share stories, to forge new friendships and to rekindle some old ones across generations.
Podcast: Play in new window | Download
Subscribe: Apple Podcasts | Spotify | Amazon Music | iHeartRadio | Stitcher | Podchaser | RSS | More