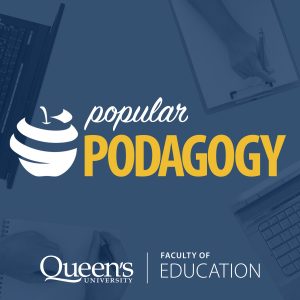 Popular Podagogy is a podcast from the Queen's University Faculty of Education that will cover big teaching ideas in a way that will allow all teachers (and maybe even some parents) an opportunity to relate on a variety of emotional levels. Our guests will include top researchers and instructors from our faculty and beyond, as well as practicing teachers to combine big educational ideas with the everyday life of being a teacher. We hope that as you listen to this podcast, you will have an opportunity to relate to the lives of other teachers, enjoy some of our stories and maybe even pick up a tip or a trick along the way. Updates the first Friday of every month.
Theme music: JazzyFrench & CreativeMinds – Bensound.com
Click here for episodes.
Subscribe to
Popular Podagogy - Queen's Faculty of Education
Or subscribe with your favorite app by using the address below